International Colloquium: "The many-faceted Independence"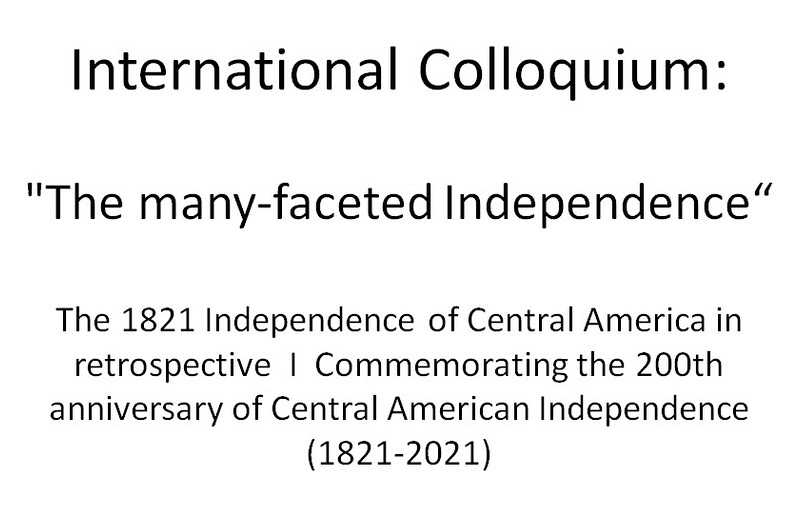 On September 15, 2021, five of the seven Central American Republics will celebrate the 200th anniversary of their independence (bicentenario) from the Spanish Crown in 1821. The process
of political emancipation was complex and had multiple effects for the historical development of this cultural and ethnic enormous heterogeneous region, the multidimensionality of the process requires a profound and interdisciplinary review. Therefore, researchers have emphasized a profound change of perspective. New and accessible
archival sources as well as interdisciplinary research methods, demand a critical reflection on the traditional historiography of the region. Recently, Global History studies have contributed to our better understanding of the Central American region which is in the center of this academic encounter. This colloquium brings together a group of international scholars, including historians, anthropologists, and political scientists, to reflect on the global and transnational perspectives of the independence of Central America in 1821 and its impact until today. This means including Central American visions, motivations, and perspectives in the face of global changes, transcending into the 21st century. Above all, the event seeks to increase knowledge about the history of Latin America in general and Central America in particular in Austria.
ORGANIZATION AND FORMAT
Organized by the Forschungsschwerpunkt Globalgeschichte (FSP Global History of the University
of Vienna), the Center for Inter-American Studies (University of Graz) and the Department of
Romance Studies (University of Vienna). Due to the Covid-19 pandemic the colloquium is
organized as hybrid event. It will be possible for the invited participants to attend on-site as
well as online. The later will be offered for those who cannot travel to Austria. In case of
deteriorating circumstances and new restrictions related to the pandemic, the colloquium will
be held only online. We kindly ask persons interested in participating online, to send an email
to register for the event to: office@konak-wien.org (free registration).

KINDLY SUPPORTED BY
the Research Network Latin America (University of Vienna), the Department for English and American Studies (University of Vienna), the Dean's Office of the Faculty of Philological and Cultural Studies (University of Vienna), the Office of the Vice-Rector for Research and Career Development (University of Graz), the Dean's Office of the Faculty of Humanities (University of Graz), the Department of Romance Studies (University of Graz), the Austrian Latin America Institute (LAI), the City of Vienna, the City of Graz, the Embassy of Costa Rica in Austria, the Asociación para Investigación y Cultura de América Continental y el Caribe (KonaK), Afro-Asian Institute Graz (AAI) and the
Asociación de Historiadores de América Latina y el Caribe (ADHILAC).